The Chinese translation of a new book on China-U.S. relations entitled "Has China Won? The Chinese Challenge to American Primacy," was recently published in Beijing by the CITIC Press Group.
The book, written by Singaporean author Kishore Mahbubani, consists of four parts, namely the end of the era of Western domination, the return of Asia, the peaceful rise of China, and the challenge of globalization, multilateralism and global cooperation. Mahbubani is a distinguished fellow at the Asia Research Institute, National University of Singapore and also formerly served as Singapore's ambassador to the United Nations.
During the launch ceremony co-hosted by the CITIC Press Group and the Center for China and Globalization (CCG) — which was also responsible for translating the text — CCG President Wang Huiyao explained that the book compares the different systems of China and the U.S., and offers readers a window into the international and historical contexts of the bilateral ties.
The book also analyzes the strengths and weaknesses of both countries, suggesting that the two could deepen their cooperation if they approached it from a more solid and honest understanding of themselves and the other, Wang added. "The key goal is to disperse the thick fog of misunderstanding enshrouding the bilateral relations."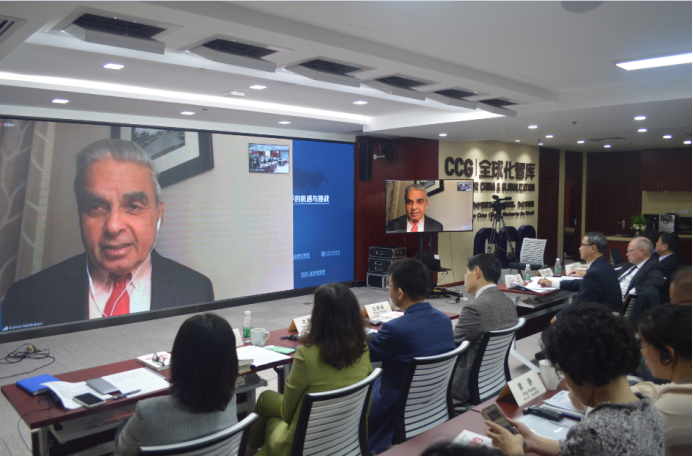 Author Kishore Mahbubani introduces his book at the launch ceremony via video link on Dec. 2. [Photo courtesy of CCG]
During the launch ceremony, Mahbubani shared his thoughts on the inevitability of Sino-U.S. competition via video link. He explained that competition between the two countries may seem unavoidable, citing geopolitical factors and America's misreading of China. However, the rivalry can be eschewed since the two sides share fundamental national interests such as improving the quality of life for their citizenry and facing common challenges like COVID-19 and climate change, which necessitate collaboration between the two countries.
Professor Dai Changzheng, dean of the School of International Relations at the University of International Business and Economics, noted that as a third party outside the fray of China-U.S. relations, coupled with his political and diplomatic expertise, Mahbubani is well-positioned to offer a neutral perspective on the bilateral ties.
CCG Senior Economist David Blair said that the U.S. is obsessed with concocting an imaginary enemy rather than facing up to its own pressing problems, such as an increasingly oligarchical system and massive wealth inequality. What the U.S. should do is to improve its leadership and deliver real benefits to its people, Blair said.
Blair also pointed out that the book title, "Has China Won?" isn't a provocative expression. Rather, it indicates China and the U.S. can achieve mutually beneficial results.
Wang Yong, professor at the School of International Studies in Peking University, held the view that the book connects the two great civilizations of China and the West. "It emphasizes the peaceful nature of Chinese civilization from the perspective of history and culture," said Wang. "Respect for cultural dissimilarity and diversity is conducive to untangle the 'knot' in China-U.S. relations."
Source:china.org.cn